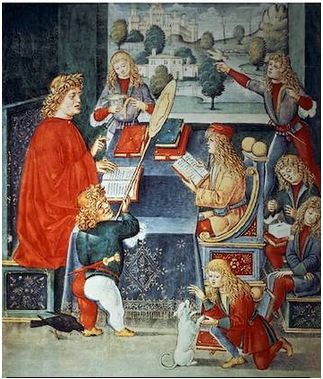 "These studies sustain youth and entertain old age, they enhance prosperity, and offer a refuge and solace in adversity; they delight us when we are at home without hindering us in the wider world, and are with us at night, when we travel, and when we visit the countryside."
In this passage, Cicero was talking about the studia humanitatis/humanities.  Petrarch, my homeland's famous poet, discovered this speech, Pro Archia, and  I owe my wonderful education in the humanities to both of these great men of letters.
My tutor tells me how education has changed since the time of Petrarch. Instead of studying logic (as students did 200 years ago), we focus on history, Greek, moral philosophy, and poetry, as well as the traditional subjects of grammar and rhetoric.
Why the changes? These days, educated people believe Cicero's words that "history is the witness of the times, light of truth, teacher of life, life of memory, and announcer of the past," and that poetry teaches us good habits and guides our character.
I'm fortunate to live in this enlightened age, and doubly fortunate, as a girl, to be able to study these subjects.
Ciao,
Lucia