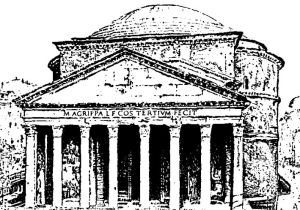 True to his promise, on Sunday my father took me on a tour of Andrea Palladio's buildings in Venice. But first he brought out a book and showed me an engraving of the Pantheon, built in ancient Rome. "Remember this, Lucia, and you'll see how ancient Rome inspired Palladio's designs."
Sure enough, when I saw the buildings, I recognized some details from ancient Rome, and will mention them as I describe each of building.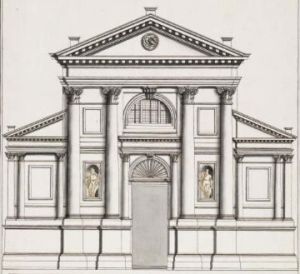 San Francesco della Vigna—My father says this site was once a vineyard, but now, thanks to Palladio's façade design, looks like a temple from ancient Rome, with its giant, high columns and a triangular pediment just below the roof. Who would have guessed this grand church belongs to the humble Franciscan monks?

Convento della Carità—With its three stories, each with a different type of columns and arches, this grand building looks more like a Roman palace than a monastery.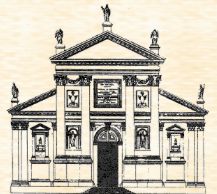 Church of San Giorgio Maggiore—Although we could easily view this huge church from across the lagoon, a gondola ride brought us to the island of San Giorgio, where we could see the church in detail. It's still under construction, but from what I could see, the front looks like it will be similar to San Francesco della Vigna, with tall columns and the triangular pediment near the top of the façade.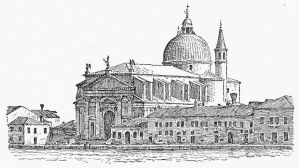 Finally, our gondola arrived at the Church of the Redeemer. Venice's Senate commissioned this church in 1576 to thank God for the end of the Plague that killed at least a quarter of our city's residents. This church, too, is still under construction, but already its façade—with its columns and high triangular-shaped pediment—reminds me of the Pantheon. After it's finished and the high scaffolding is torn down, this church will have a great dome with a statue of the Redeemer at its apex—a wonderful thank offering to God!
Unfortunately, we couldn't go inside the Doge's Palace to see the area that Palladio renovated after a fire. Papa tells me this renovation is magnificent, and I hope to see it someday.
Now I understand why Palladio is described as the architect of the Rinascimento/Renaissance: his buildings make me want to believe that ancient Rome has been reborn in Venice!
Ciao,
Lucia