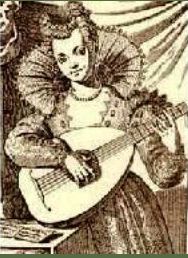 The excitement of another Venetian Easter has passed, and my thoughts have turned again to what I'll do when I finish my schooling. I've wondered if I'd ever find a woman whose career I'd want to emulate, but then my tutor recommended I study poetry with Modesta da Pozzo, a rising young poet in Venice. I've loved to read and write poetry since my first schoolmaster introduced me to it. From the ancient Greeks to my compatriots Dante, Petrarco, and Boccaccio, I enjoy them all.
When I met Modesta da Pozzo, I was shocked to discover she's only six years older than me. Her parents died when she was very young, but her extended family looked after her well. She credits her interest in poetry to her grandfather (who gave her books and urged her to read and write poetry), her brother (who taught her what he learned at Latin school), and her uncle (who took her in and supported her efforts as a poet after her grandparents died). They all did a wonderful job—I've never met a woman as talented and thoughtful as Modesta. She's not only a gifted poet who writes in Latin and the common tongue, but she also plays the lute, sings, and sews.
Now Modesta will help me improve my own verse. Someday maybe schoolgirls will read my poems and remember me, just as I'll never forget Modesta.
Ciao,
Lucia