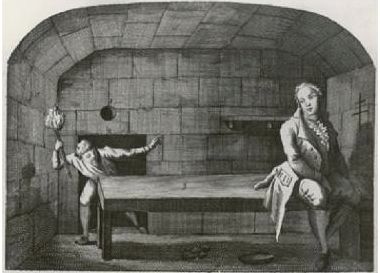 By the light of day, who could imagine a safer city than Venice?  Aside from rowdy Carnival celebrations, all the Venetians I've seen out in the piazzas, walkways, or on the canals have been impressively well-behaved.
But my father tells me the city's peaceful appearance comes at a high cost.  Venice employs several police forces—the Signori di notte (night policemen), the sbirri (secret police) who throw their cloaks over suspects to muzzle them, and the Council of Ten ("black inquisitors") who wear black mantles and hire secret agents all through the city.
My friend Valeria tells me about people who've been arrested here, just for criticizing the Venetian state.  Before the prisoner's friends have even heard about the arrest, the unfortunate person has been tried and condemned, then banished, imprisoned, or executed.
These stories would make me think twice before speaking rashly, let alone committing a crime!  If all Venetians feel the same way, it's no wonder this city stays safe.
Ciao,
Lucia