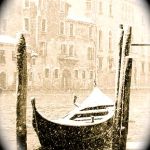 Winters in Venice can be extreme—exquisite and dangerous! In my brief excursions during this season, I've admired powdery snow dusting piazzas, gondolas, and bridges. Icicles hang from churches, and glassy sheets of ice form on the edges of canals.
Venice becomes mysterious when la nebbia (fog) descends in wintertime. A few weeks ago, the fog lasted several days, and I couldn't even see across the canal. What a chance for criminals, when their misdeeds can't be seen or heard!
Then there's acqua alta (high water), the floods that happen in the winter when warm scirocco winds push tides and waves into the city, especially in low areas like Piazza San Marco. When the waters rise, I'm glad I live on my palazzo's second storey.
Winter sickness frightens me here. With people living so close together on these islands, I've heard more coughing and sneezing than in Verona. My physician father tells me many people die of breathing problems here, but body lice bring an even more deadly disease in the winter—tifo (typhus). It progresses from fever and red spots to infected sores, delirium, stench, and an awful death. Tifo strikes especially the poor as they huddle together for warmth under infested blankets, and have no change of clothing. I wish I could help them, but Papa says it's dangerous to go near.
As I glance out my frost-etched window, I pray that all Venice's residents will survive to enjoy Carnival, Easter, and spring.
Ciao,
Lucia