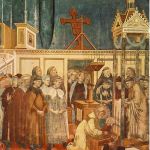 Giotto (1267-1337), Legend of St Francis, Institution of the Nativity, Assisi Basilica, Public Domain, via Wikimedia Commons
All of Italy loves Advent and Christmas. But as a newcomer to Venice, this city's celebration amazed me.
Our most popular symbol of Christmas, the nativity scene, came from Saint Francis of Assisi.  He asked that Presepe (the nativity scene) be set up in a church before he preached. Now every church I've seen in Venice features its own nativity scene.
On Vigilia (Christmas Eve), we had a meal of capitone (eel) and vegetables (We avoid meat to purify our bodies before Christmas).  Later that evening, we traveled by gondola to attend midnight mass. The nativity scene in front of the church featured live sheep, a donkey, and a mother with her new baby, playing the roles of Mary and Jesus.  I didn't envy them, sitting out in the cold!  Church bells rang out at midnight, so everyone in the city, even snug in their beds, must have heard that Christmas had arrived.
Just after Christmas, on December 26th, we celebrated the Feast of Santo Stefano (Christianity's first martyr, stoned to death), and visited nativity scenes at many churches.
And now, today is a double holiday: New Year's Eve and the Feast of San Silvestro.  I won't be out to see it, but I hear that fireworks will brighten Piazza San Marco at midnight to usher in the New Year.
Buon anno (Happy New Year)!
Lucia