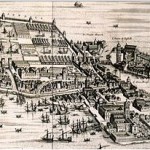 Ever since I arrived, I've been learning that Venice is full of surprises, but I expected they'd be related to the arts and letters, or trade.  On a recent gondola tour, my father pointed out something I would never have dreamed I'd see: in this city built on a few islands, a huge area in the Castello district is surrounded by tall walls.
I imagined that artists might use this sheltered space to create vast canvases in complete privacy, but that wasn't it at all.  Papa tells me that it's the Arsenale, the dockyard where ships are built and repaired.  Even though it's out of public view, Venice takes great pride in this complex.  Rumor has it they can build a new merchant ship in one day!  The Arsenale is so famous that Dante wrote about it in his Inferno (from his Divine Comedy).
Why is the Arsenale important to someone like me?  My father tells me that the ships, rope, and weapons it produces account for a large part of this city's wealth.  Without the Arsenale, there wouldn't be rich patrons to fund artists, writers, musicians, or great churches and palaces–or maybe even physicians like Papa.  So Venice probably wouldn't be my home, or the grand city it is today, if the Arsenale hadn't been built.
Ciao,
Lucia