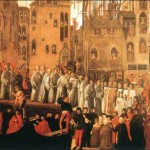 Miracle of the Relic of the Holy Cross in Camp San Leo, by Giovanni Mansueti, ca. 1494. (Galleria dell'Accademia, Venice), Public Domain
When I arrived in Venice,  I couldn't help but notice its many canals, bridges, cathedrals, and palaces. The next thing that struck me was what I didn't see—as I traveled through the city with my father, the only women and girls out by themselves were servant girls and brightly-dressed courtesans.  Occasionally, mothers and daughters strolled about, but always in the company of their husbands and brothers. What a contrast from my hometown, Verona!
Papa told me that in this city built on islands, people live so close to each other that they notice any breach of propriety, and all of Venice hears about it.  So to protect their daughters' reputations so they'll be able to marry well, families don't allow their girls to go out without escorts.  My father concluded, "Now that we're in Venice, you'll need to follow this custom. Don't worry, I'll show you around."
Now I understand why so many girls and women stand out on their balconies watching whatever goes on below–and this city is beginning to seem more like a prison than a new adventure.  I hope Papa makes good on his promise soon!
Ciao,
Lucia