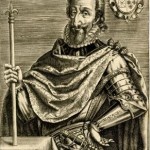 Henry III of France, by Giacomo Franco, © Trustees of the British Museum, http://www.britishmuseum.org/research/collection_online/collection_object_details.aspx?objectId=3376270&partId=1&people=124679&peoA=124679-2-70&page=1
I thought my arrival in Venice was amazing until I saw a plaque this week outside the Doge's Palace, commemorating the visit of King Henry III of France a few years ago at this very time of year.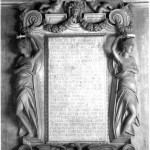 Paintings show that our city gave the French king a truly royal welcome, welcoming him with a regatta, elegant gifts, and all sorts of special events in his honor.  I wish I'd seen his face when he sat down for his first lunch, picked up his napkin, and it broke into two pieces—everything on the table (tablecloth, plates, cutlery, etc.) was made of that precious ingredient, sugar!
Ciao,
Lucia