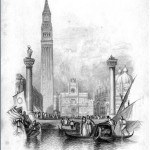 Venice, the Campanile, engraving by William Miller (Public Domain)
When I climbed into the boat in Verona, I dreamed of making a grand entrance in Venice, like a contessa visiting her territories, cheered by her subjects.
Instead, my cloak and shoes were stained with vomit (thanks to the rough sea), only Papa noticed my arrival, and the only person in awe was me, viewing the sights around Piazza San Marco for the first time.
What sights I saw–among them, the pink-orange Doge's Palace, the domes and mosaics of San Marco cathedral, the massive piazza, and towering above everything, the Campanile, crowned by a small statue of the angel Gabriel to show which way the wind is blowing!  I'd seen drawings of these places in books, but they couldn't compare with viewing these great monuments with my own eyes.
Was my long trip worth the discomfort?  Absolutely! Entranced by Venice's landmarks, with Papa at my side, and no dust to brush from my clothes and shoes—it's a memory I'll always treasure!
Ciao,
Lucia