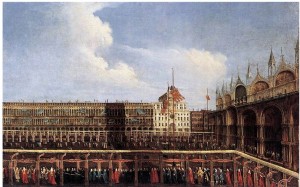 Antonio Diziani [Public domain], via Wikimedia Commons http://commons.wikimedia.org/wiki/File%3AAntonio_Diziani_-_Feast_of_Corpus_Christi_Procession%2C_Piazza_di_San_Marco_-_WGA06353.jpg
Another week, another festival in Venice!  This time it was the annual celebration of the body and blood of Christ, and Christ's presence in Holy Communion.  It drew the biggest audience I've seen yet; there must have been thousands of people in Piazza San Marco.
The doge, in his crimson robe, was lucky he had a great seat inside the cathedral to watch the procession for five hours, but ordinary people had to stand outside.  My legs have never felt so tired as that night, but my reward was the amazing sight of one guild following another, then clergy of all types, and finally the doge's own procession, which included the Patriarch and Senators and who knows who else.  Each group had something that caught my eye–festive costumes and banners, floats with actors re-enacting famous events, mostly taken from the Bible.
Ciao,
Lucia
PS: Venetians aren't the only ones who enjoy our festivities—among other foreigners, I saw three Turks at the procession.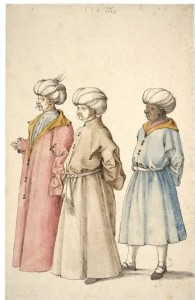 Albrecht Dürer [Public domain or Public domain], via Wikimedia Commons http://commons.wikimedia.org/wiki/File%3ADurer-3-turcs.jpg