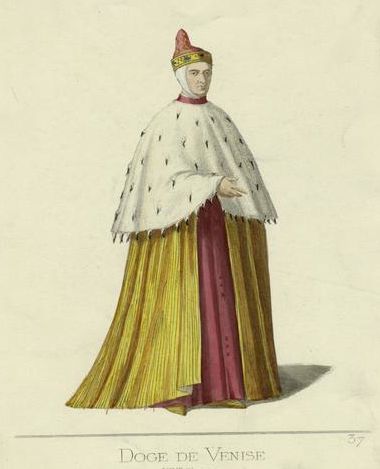 What a surprise greeted me the first time I saw Venice's leader in a procession!  The doge looked like an old man wearing a funny hat—nothing like the strong, dangerous-looking men who rule this land's other city-states.
A famous Venetian, Bernardo Bembo, once said, "All the princes of Italy are tyrants except for the doge of Venice." Papa explained that Venice has the best system of choosing its leader, so troublemakers can't grab control of our city.  Only a man with years of experience serving in Venice's government  can become the doge, and he must obey the government's rules.
The doge takes part in ceremonies every week, all year long, and I wonder if he gets tired of standing outside in summer heat or winter cold—especially since he rules the city until he dies.
I bet you're wondering about his strange hat.  It's called a biretta, and it reminds me of pictures I've seen of ancient kings.  Clergymen wear them, and Papa has one, too, since he's a medical doctor (but he doesn't wear it much).   I'd like to have one, too, just to look distinguished.
Ciao,
Lucia