Resurrection of Christ (Fra Angelico, 1440-41) (PD-art)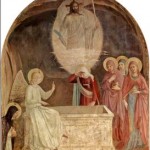 Throughout the past week, one procession after another paraded through the city. Each one dramatized one of the final days before Jesus' crucifixion. The doge always played the role of Jesus, but our city's leader somehow escaped beatings and execution.
On Good Friday, the city went into mourning. Black was everywhere—-in San Marco church as well as everyone's clothing.
But what a celebration I saw this morning! When the doors of San Marco opened, someone called out: "Jesus isn't here, for he has risen, just as he said." Singers sang "Alleluia" and the doge's procession entered the church. Inside, elegant brocades had replaced black mourning cloth, and the city's leaders wore gold silk.
What an unforgettable week—-I never saw anything like it in Verona!